Just Carrots, No Sticks!
Because we're the Asians who only believe in rewards, not punishment.
Focus on the things you love, and let us worry about the aftermath. Wear our basic tops to work, to the beach, to bed or anywhere you wish. Let Tortoise accompany on your best adventures.
Then send them all back to us to give them the second life they deserve.
Landfills get a big NO from us!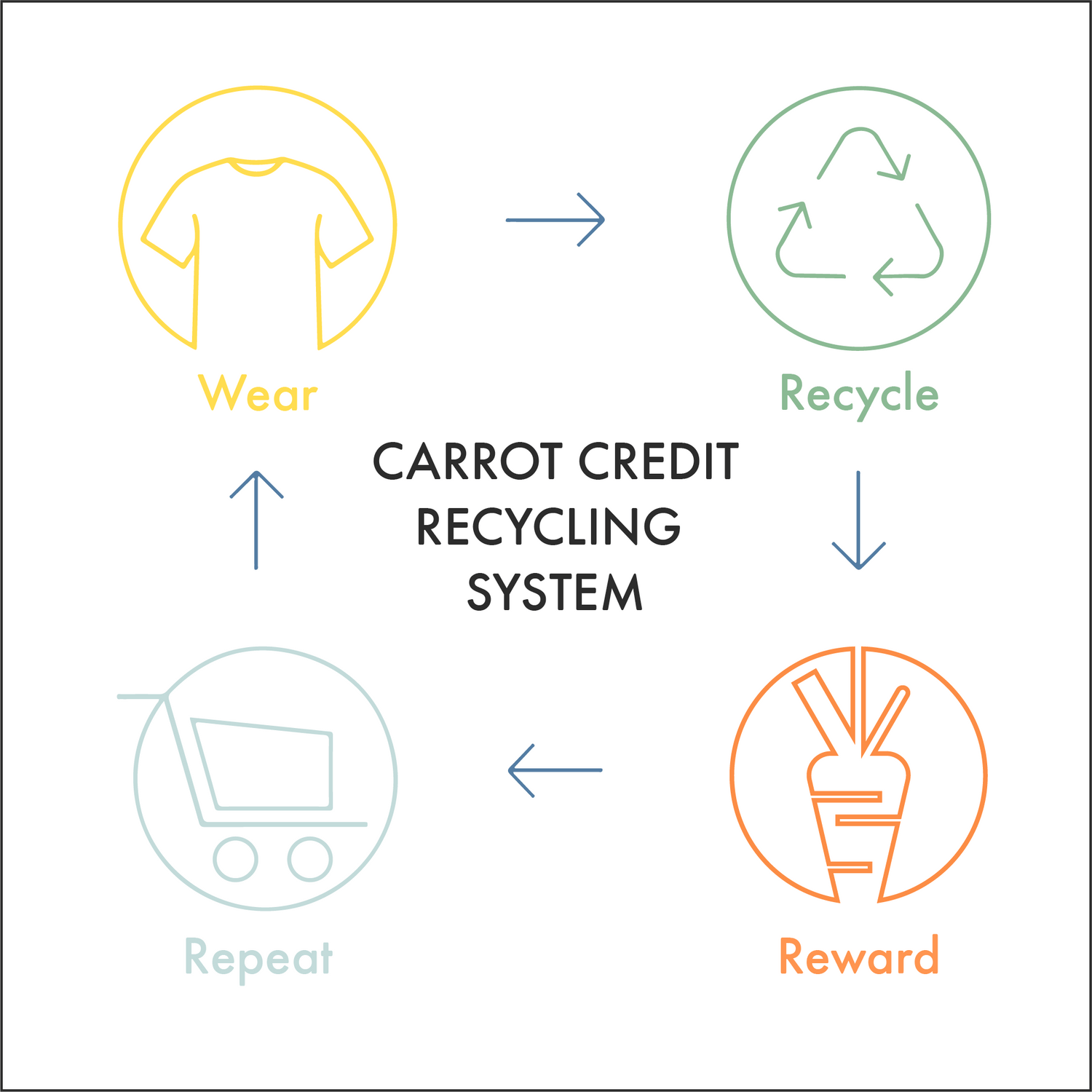 Think long-term — you'll not only help save Earth but your wallets too!
Four Simple Steps to Save us All:
1. Wear

Start your adventure with Tortoise at full price and love your piece to bits

2. Return

Give them a second life by sending them back to us for upcycling or recycling

3. Reward

Earn Carrot Credits (worth up to 20% of full price) to use on your next order

4. Repeat

Start a new chapter with a new piece subsidised by your Carrot Credits
Questions?
What exactly are "Carrot Credits"?

Carrot Credits are the gift cards you get when you return your old Tortoise item at the end of its life. They are designed to be incentives (you know, like carrot and stick?) for you to do your part and recycle your old Tortoise items. We've got you covered!
How much Carrot Credits do I get for each piece of used Tortoise piece I return?

The value of Carrot Credits for every piece can be found on each product's page.

If you are returning more than one piece at a time, you can let us know if you'd prefer your Carrot Credits to come in a single gift card, or split into multiple gift cards.
How do I get my Carrot Credits?

When you are done with your Tortoise piece(s), send them back in the Tortoise TotePack that they arrived in, or in any recycled packaging.

When you're ready to start your returns process, fill out this form and we'll be in contact soon to follow up with the process. Do make sure to fill out the form before sending us the parcel!
Are delivery fees for Carrot Credit Returns really on you?

Yes, you're absolutely right! We'll cover the delivery costs of your Carrot Credit Returns.

Let us know when you're ready for your Carrot Credit Returns and we'll give you more details on how to drop off your return parcel at any Pick N Parcel Parker Point near you.
What can I do with my Carrot Credits?

Here are 3 suggestions from us:

1. You could use them for your next purchase. (Do take note that only 1 gift card can be used for each check out.)

2. Since they come in the form of gift cards, you may gift them to a friend!

3. Donate the value of your Carrot Credits to a cause of your choice. Let us know by sending a link of your preferred cause to hello@tortoisethelabel.com and we'll be in touch soon to follow up on this process.
How do I opt to donate the value of my Carrot Credits instead?

We'd love to donate the value of your accumulated Carrot Credits on your behalf. Send us a link to your preferred charitable cause at hello@tortoisethelabel.com! We'll be in contact with you to follow up on this donation process.
What happens to my used Tortoise pieces after I send them back?

First up, we check if your pre-loved Tortoise pieces are in a condition that is suitable for upcycling.

For all our upcycled products that we make and sell, we'll continue to ensure that they come back to us at end-of-life. This gives your used pieces a real shot at a second-life before heading to the recycling plants.

Once your used clothes are no longer suitable for upcycling, fret not! We send them over to our partners in Singapore, who help consolidate Tortoise items with other textiles before sending them to Taiwan for mechanical textile recycling.

Being a 100% organic cotton makes them easy to recycle without the resource-intensive step of fibre sorting. Only when we're certain they cannot re-enter the production cycle, we ensure that they are responsibly biodegraded.

There's much to learn about the various types of recycling and how you can help ensure the circularity of your clothes. Check out our Journal and sign up to our newsletter for updates!
May I send Tortoise my used clothes from other brands for recycling?

We're working really hard on making this possible real soon!

Stay tuned and keep up with our updates by signing up to our newsletter below ;-)
Why "carrot"?

Simply because we'd rather give you the carrot than give you the stick! We like to think that the best results come as a result of soft love with rewards and incentives. It's 2022 – gone are the days of punishment!

Fun fact: tortoises love carrots too!